A substantial redevelopment of the existing South Fremantle Senior High School Campus has recently opened for the commencement of the 2018 school year. The project represents the amalgamation of this school and Hamilton SHS to form Fremantle College. Will Thomson, SITE architecture associate, was project architect on this important transformational project comprising a significant new 2 storey Education Facility amalgamating Performing Arts, Student Services, Science, English and Maths learning communities into a single new building, as well as an extensive refurbishment of the existing 1967 school facilities to create a dynamic and modern school.
The project was commenced whilst Will was a Principal at JCY Architects and SITE have recently been engaged to complete the Contract Administration.
SITE is proud to be involved in delivering the final stages of the project which exemplifies complex design, sequencing, delivery and construction management skills with rigorous ongoing stakeholder consultation.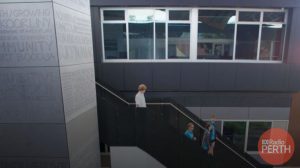 Click on the image to listen to ABC Radio Perth On Drive with Geoff Hutchison who spoke with the principal of Fremantle College Myles Draper.