SITE was engaged by the Department of Finance to design a facility to replace existing Science transportables at Eaton Community College, south of Perth. The brief included: 4 General Science Labs, 2 dedicated Chemistry Labs, Staff and Preparation Areas, located on the existing middle school hard courts.
Through SITE's process of Understanding, we began the process with a deep enquiry with key staff to discover the site context, values, and educational vision unique to Eaton Community College which we could draw upon to inform the design. Two values emerged.
Diversity – Eaton Community College opened originally as a Middle School in early 2000's and grew to a 7- 12 Secondary College by 2009. Their vision is to address the diverse emotional, social, intellectual and academic needs specific to young teenagers and  aim to create a learning environment which promotes a feeling of self-worth and confidence for diverse student abilities, needs and interests. Strong interest includes catering for students with ASD and other Special Educational Needs.
Transparency – The College aims to be visible in the community by collaborates with neighbouring schools and local community organisations. They also encourages a strong collegial culture focused on continual teaching improvement. Improving visibility encourages peer to peer critique and teacher learning which research shows has a positive impact on student learning outcomes.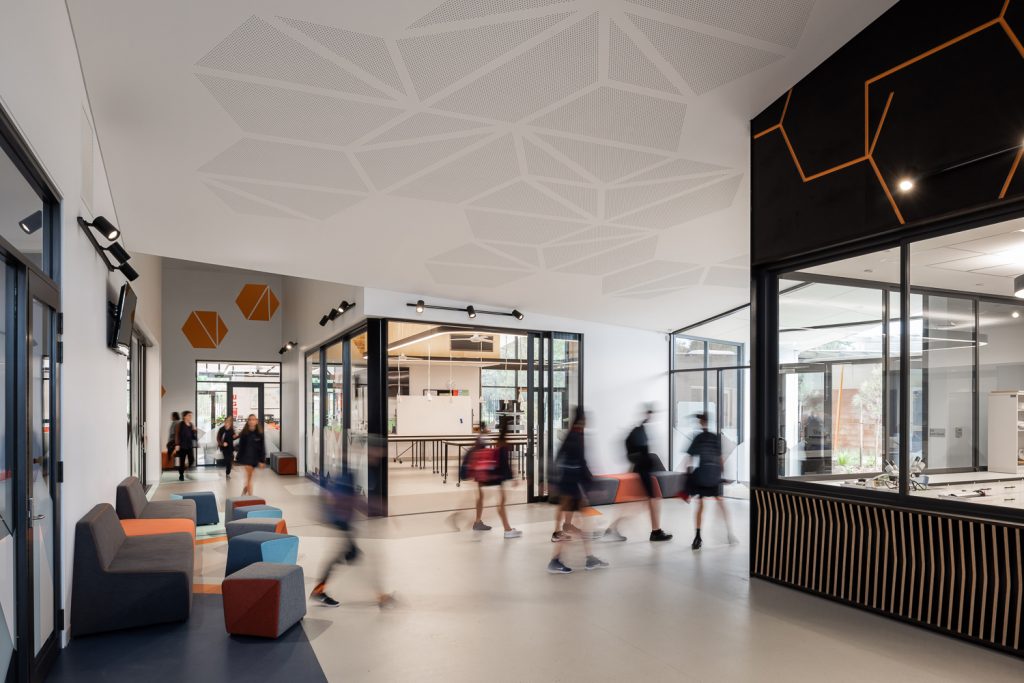 Design Response
Our visioning workshop with key College staff and Department of Education personnel challenged traditional Science room models using local, national and international examples of innovative science learning environments. We questioned the current modes of Science teaching which were constrained by their existing spaces. We queried other, extra-curricular interests, both College and personal which opened up a very different dialogue between SITE and the key staff on the opportunities of the new spaces including STEAM learning and engaging local community group programs.
We toured a number of innovative science facilities around Perth with College's key staff to see and hear firsthand about how these different, flexible science learning environments work.  We also discussed community use potential with the local Council.
This active engagement with staff and Department of Education through a journey of continual enquiry and collaboration pushed the prescribed brief to create a more flexible and adaptable learning environment which also aimed to revitilise and activate other spaces on the campus.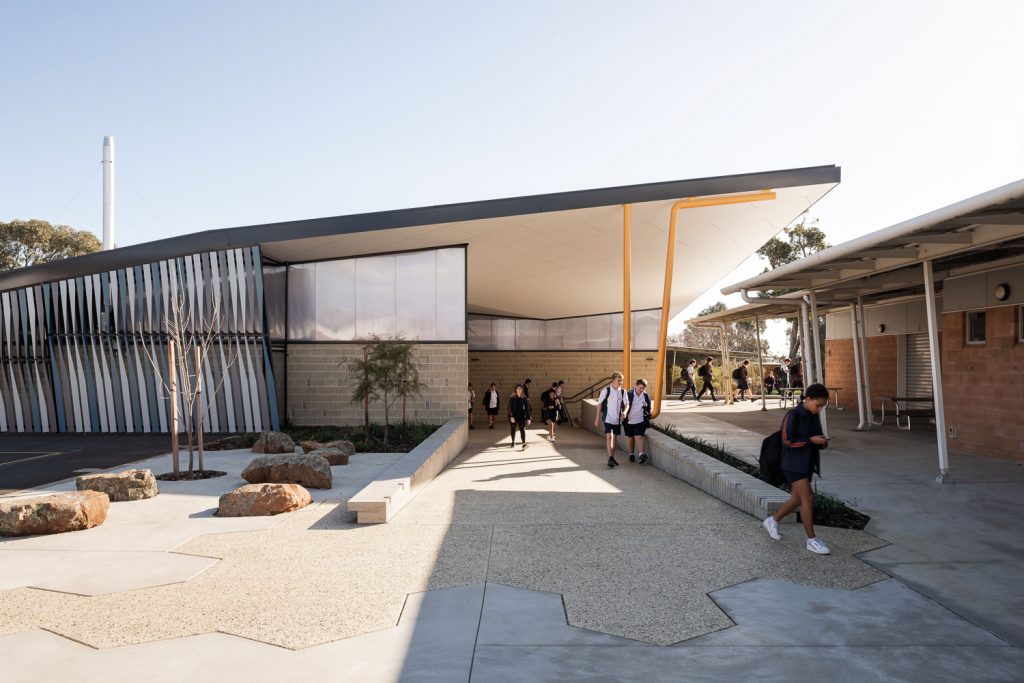 The brief emerged with 2 Chemistry Labs and 2 General Labs positioned around 2 flexible creative spaces and staff/preparation areas with strong visibility, student accessibility, and connection to landscape. The masterplan emerged through the following objectives:
Retain the existing highly used basketball courts,
Repurpose an underutilised open grassed area disconnecting the Campus.
Create a link connecting the 2 main campus learning area clusters,
Repurpose an existing dysfunctional staff work and storage area,
Provide a flexible learning environment for STEM based activities in the heart of the campus.
Create a number of different outdoor learning environments that improve existing spaces.
The project aims to improve the teaching and learning opportunities for the adjacent two main campus learning clusters by creating a central 'drop-in' active project space for the campus with a STEM focus.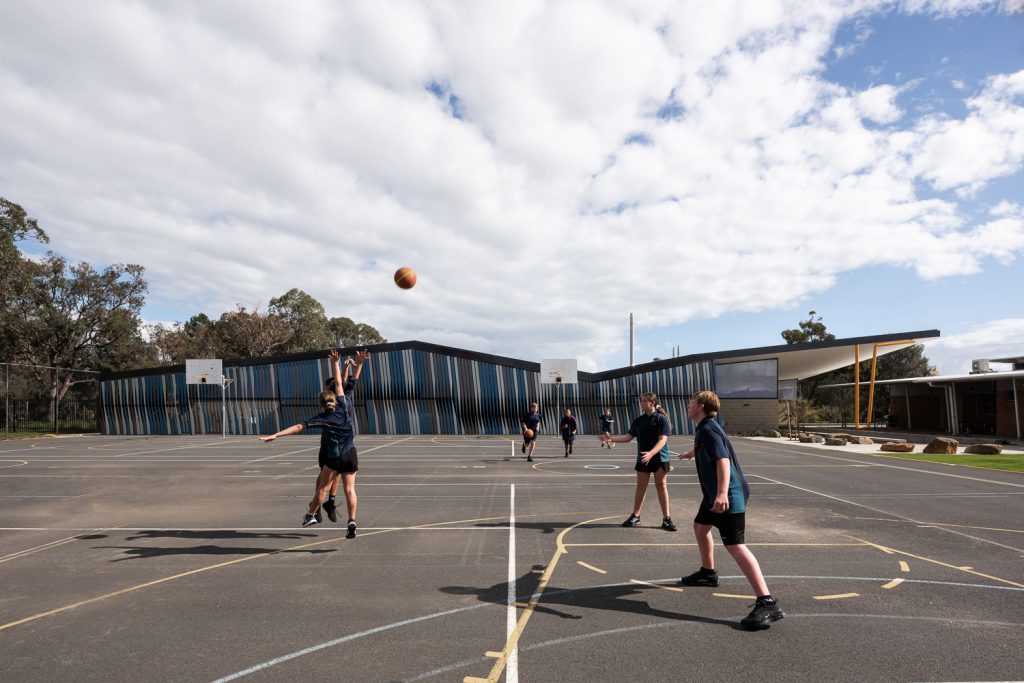 5 spaces have a dedicated perimeter bench with power, water, and gas. These spaces are designed to offer a range of teaching/learning opportunities through their different connections with: the prep lab, central breakout space, adjacent Labs, different landscape/external learning areas, and the maker space.  Encouraging team teaching, this allows room bookings to suit teacher lesson requirements rather than being dedicated to a particular teacher or subject.  The central maker space connects to the external wetland and has timber benches and storage areas concealing sinks, services, and a soldering station as well as a rack for gumboots.  Its location and design allow out-of-hours use and accessibility for external community groups.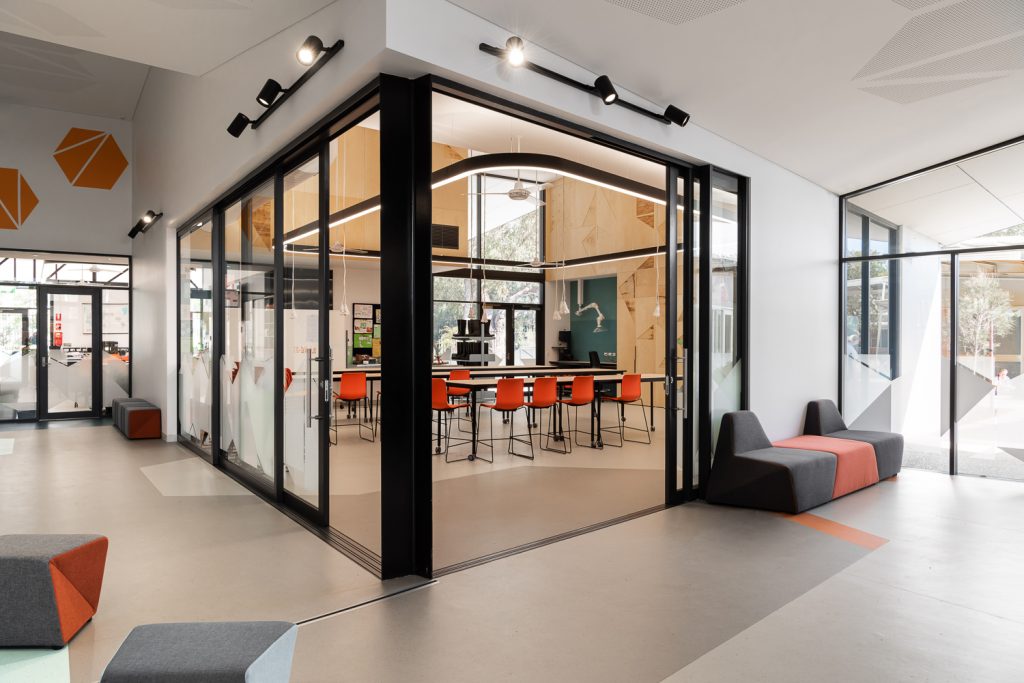 All labs have a strong visual and physical connection through the central break out space to each other, encouraging the teachers to work collaboratively. The two central flexible maker labs have large sliding doors which enable the spaces to combine with the central breakout space to create a single large teaching and exhibition space. Staff preparation space is celebrated within the heart of the breakout space as equipment, chemicals and experiments can be seen behind large glass sliding windows promoting student enquiry and encouraging greater technical staff interaction.
The western College entrance incorporates an art installation as a symbol to science, biology and making. The coloured hexagonal symbols continue into the architecture and landscape reinforcing the identity of this new science place. The material palette references the language of the existing buildings and provides a new, complimentary interpretation using patterned blockwork with high level polycarbonate sheeting. This allows natural light as well as exposing the structure to engage student's curiosity in engineering principles.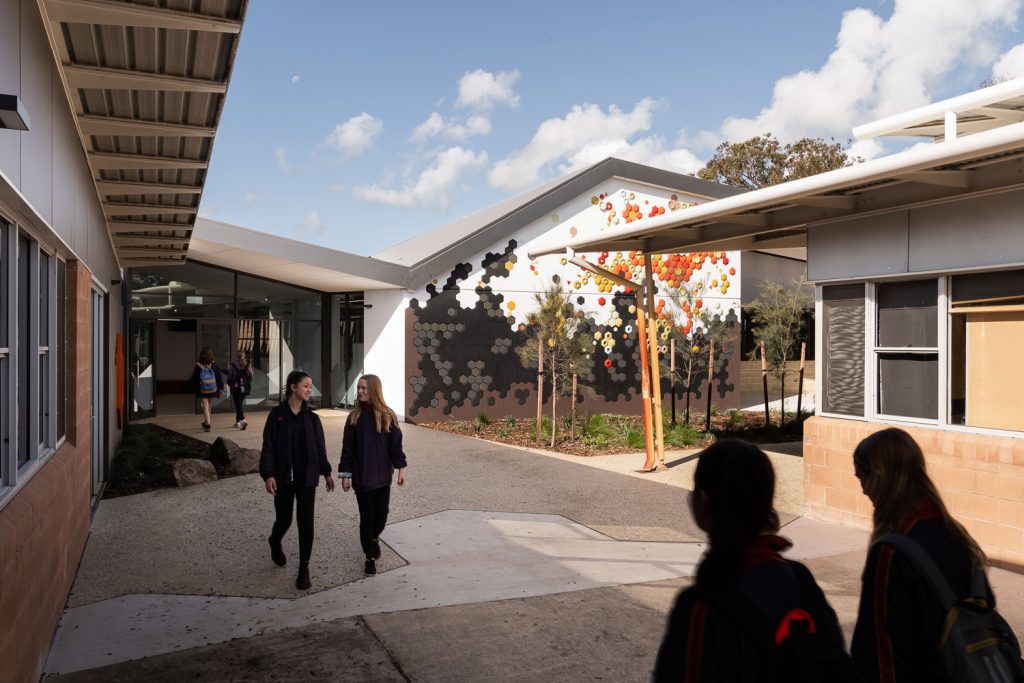 Mature tuart trees surround the College site which has two hectares of wetland. The simple folded roof plane directs rainwater run-off into landscaped swales contributing to the micro-wetland landscape and creating lessons in bio-diversity.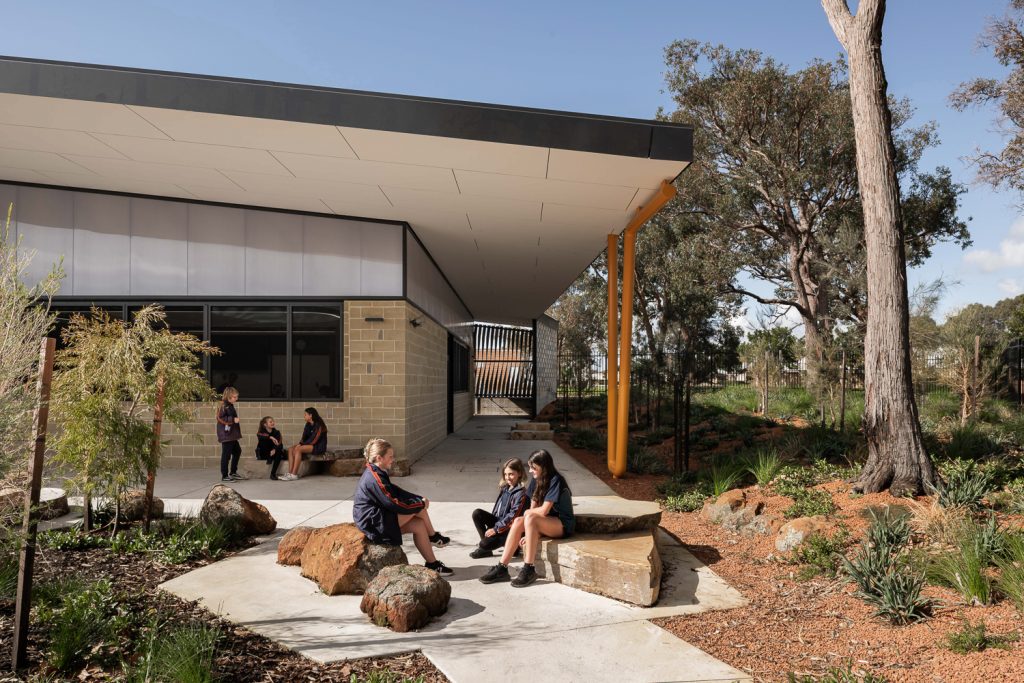 Outcomes
Through a deep understanding of the College and site, extensive interrogation of the brief, and the vision to improve broader campus issues, the new Eaton Community College Science building adds more to the campus than 6 additional learning spaces. The flexible lab, maker, and foyer spaces, together with teacher prep and office spaces provide an integrated learning hub for the campus supporting STEM-based pedagogies. Well orchestrated site master planning creates an important link between the existing disconnected teaching clusters while maintaining and integrating the existing basketball court.
We are delighted by how the facility has been embraced by the college over the last year and in the many different ways we have observed the spaces are being used by the teachers and students. Beyond this, feedback from the staff and students has been positive and they appear very proud of the new facility, describing the experience of the spaces similar to those of a university.